The royalty rate that Motorola Mobiity wants from Apple for using its patents is 2.25% and Google are stating they will not change the policy. Cries of "unfair", they are of a FRAND (Fair, Reasonable and Non Discriminatory) nature, so is 2.25% excessive? Even Samsung are demanding 2.4%!
Apple have complained to ETSI (European Telecommunications Standards Institute) and Microsoft are supporting Apple's complaint claiming that the rate is far too high.
So the real question is what is considered fair and is Apple's complaint valid?
Why isn't mobile be the same as the wired world? 
Mobile has been different from the outset. Spectrum is owned by governments, is licensed for specific uses and is limited in its resources, this means that the technology required for delivering larger amounts of data on such a narrow amount of available frequencies requires investment and a return on the investment.
Apple and Microsoft do not have substantial patents in this area. They have both come from the wired world which has a different value chain and different (strong) players at each layer. There is no equivalent of Qualcomm in the wired world, there are no gate keepers that can prevent your mobile phone from being easily supported such as carriers. 
Is it really fair, what has history told us?
Apple previously lost a patent dispute with Nokia. Probably involving patents of a FRAND nature. The value is around 4.5% of the cost of building the device. Previous patent agreements have been around 5% 
Qualcomm won a patent case against Nokia, with Nokia settling for an alleged $1.8 Billion in patents and agreeing to pay a royalty of approx 2%. Qualcomm's average royalty rate is around 3.5% according to this chart . At the time, Nokia were also complaining that Qualcomm were not complying to FRAND. 
The main thing to note is that these royalty percentages are above what Motorola and Samsung are demanding. In this context they seem fair……. however,  the main difference (in the Motorola case) is a % of what? Motorola are asking for a % of the average sales price, whereas previous cases are about a % of the cost of building a device.
Here is a BOM breakdown of the iPhone 4S -
WIth a sales price of $599 for the 16GB and $699 for the 32GB version that means Motorola are asking for around $13.48 and $15.72 per device respectively. Whereas at Qualcomm's estimated 3.5% of BOM, that figure is $6.58 and $7.25 respectively. This is likely the driver of the 'unfairness' claim. 
It's not the % in itself, it's what it's a % of.
How much are they asking?
Smartphone growth is forecasted to slow to 22% in 2012. If Apple maintain their current market share then the amount they are looking for in 2012 is worth $1.7B.
Compare that to the BOM version which is worth only half a billion and is likely to be less due to deceasing prices of components over time.
Number of Patents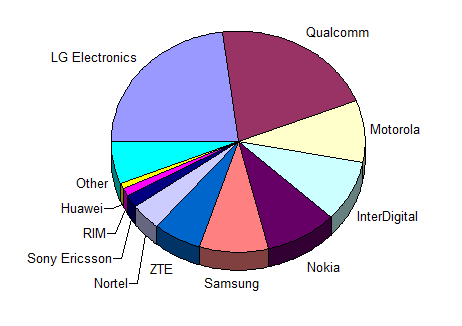 If we look at the LTE patent pool and see who owns what, this is another argument for the unfairness of the request. Although the dispute is not about LTE (where Apple has acquired Nortels patent pool), it puts the size of the patent pool and the amount Qualcomm request vs what Motorola/Google are requesting into perspective.
Is asking for $1.7B fair?